6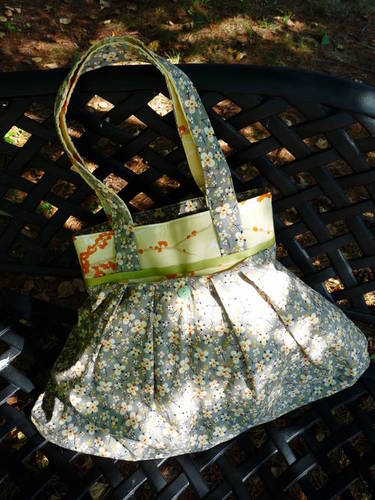 A few months ago I participated in my very first Craftster swap. The swap's theme was Yarnies vs. Sewists. The idea behind the swap was for people who sew to exchange handmade items with people who love to knit or crochet, and since I'm a sewist, I was partnered with the yarnie Miss Barbara.
I loved making projects for Miss Barbara, who loves the color orange and cherry blossoms. She sent over a wish list of items she would love to have, which included a water bottle holder and tea wallets. I created a water bottle holder in orange, and also made her a reversible tote bag to clamp the bottle holder onto. The bag featured orange cherry blossom fabrics with an accent of green silk ribbon. The gorgeous pale yellow fabric featuring the cherry blossoms and birds is a Joel Dewberry print I had been holding on to for the past couple of years without a project home. The gray side is an Alexander Henry print.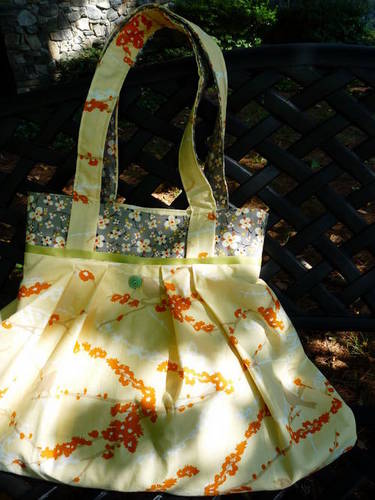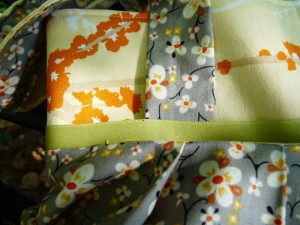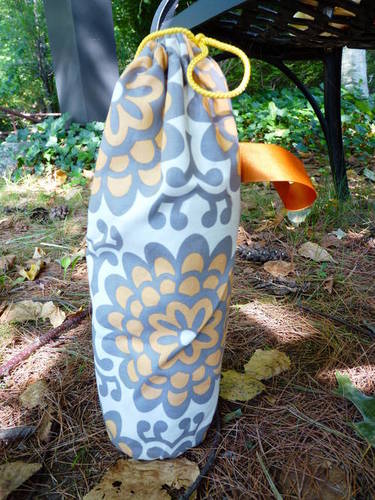 Next up were the tea wallets in green fabrics. Each wallet was made to house six tea packets, and closed with a Velcro-ed silk ribbon.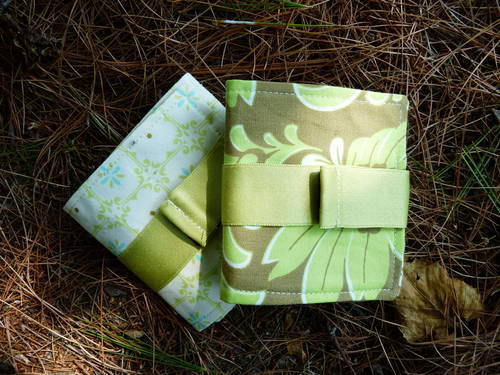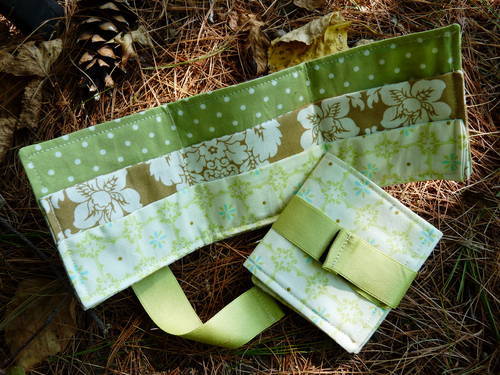 I had such a great time making these items for Barbara that we decided to also do a personal swap after the official one. This time around she asked for items for her kids which included two Halloween trick-or-treat bags, and a Nook cover for her son for Christmas. Unfortunately I was unable to get photos of the trick-or-treat bags for the girls before I mailed them away, but I was able to get two shots of the Nook cover with my cell phone. He wanted something with an Invader Zim theme, which I had never even heard of before. So, after watching several episodes on YouTube for research (and subsequently losing a few brain cells), I settled on creating a cover to look like the Invader Zim DVD box set. One side is Zim and the other is Gir, and the whole thing is made from appliqued felt.
I've been an awful swap partner and have yet to post photos of all the incredible items Barbara created for me which includes a throw pillow, a lap blanket, a hat, scarves, gloves, and more, all made from yarn. This week I will upload a second post to showcase all of Barbara's incredible crochet talents.
Have you ever participated in a Craftster swap?