29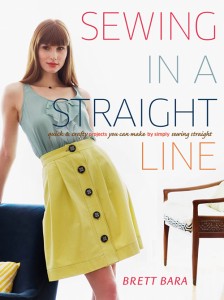 I'm so happy to announce that my dear friend Brett Bara's new book, Sewing in a Straight Line, is now available! For anyone that doesn't already know of Brett, she is the host of Knit & Crochet Now, and an all-around super talented lady.
I first got to know Brett when we both worked together at SOHO Publishing, with her on the crochet side and me on the crafts and sewing side. Though most people know her for her work in the yarn world (and the amazing world of Jell-O!), Brett's adventures in sewing can be found in her tutorials on Design*Sponge and her new website.
I love Sewing in a Straight Line, and I'm not just saying that because Brett's a buddy. The book's projects are so chic, you'd never guess they were simply done all by simply using a straight stitch, which gives beginners the confidence to really dive in and start stitching. I'm so excited to share this great new book with you, that I'M GIVING AWAY ONE FREE COPY! For a chance to win, simply comment on this post by Monday morning, and I'll choose a winner at random. Giveaway closed. Congrats Allison C!
To get to know a little bit more about Brett's process behind Sewing in a Straight Line, she was kind enough to chat with me about the book and all things sewing:
Me: What made you first want to create the book?
Brett: I have been wanting to write a book for a really long time. My background, work-wise, is in crochet and knitting, but rather than write a crochet or knitting book, I wanted to write a sewing book because I've always been a sewer and I wanted to incorporate sewing into my career. I also was seeing that sewing seemed to be really growing as a trend – that more and more people seemed to be getting interested in sewing. I noticed that lots of people kept mentioning to me that they wanted to learn to sew but didn't know where to start… and then one day I had an epiphany where I realized that so much of what I sew is made with straight lines only. So I thought, if all those people who want to learn to sew could see how easy it can be (straight lines!) then maybe they would be able to give it a try. And that's how this book was born!
Me: When did you first learn to sew and who taught you?
Brett: I think I started sewing when I was four or five years old! My mom was a big sewer and I was always fascinated by her sewing. I LOVED going to the fabric store to pick out patterns, fabric and notions and then watching her make clothes for me – so I was really interested in learning to sew as a kid. I'm sure in the beginning I just played around on the machine, but I remember making my first finished top in second grade. From there I went on to make clothes for myself in junior high and high school, and in high school I also got into quilting.
Me: How is sewing different for you than crochet?
Brett: Hmmm, they're totally different for me. I didn't learn crochet till I was an adult, and I think in many ways crochet has always been a "work" thing for me – even though I do it as a hobby, it's really always been a work-related subject, whereas sewing is more in my blood and is something I've associated with free time and pleasure and pure creativity from a very early age. Also, sewing is faster and it doesn't make my wrists hurt!
Me: What was your creative process like when you were developing ideas for the book?
Brett: Once my editor and I had settled on the straight line concept, everything flowed from there. I sat down and brainstormed all of the different things that could be made with straight lines… It was totally one of those things where limitations and restrictions make you more creative – it was a fun challenge to think within the constraints of straight lines only. I really wanted the projects to look sophisticated despite the straight line thing, so it was important to me to come up with projects that didn't look boxy or rudimentary. So I spent a lot of time choosing fabrics that would elevate the simple shapes of the projects, and adding in special techniques like shirring to take things up a notch as well.
Me: What was it like creating all of those projects?
Brett: It was terrifying, and then it was really fun! At first I was really overwhelmed by having so many projects to create, and I lost some time feeling paralyzed and overwhelmed. But of course getting started is the hardest part, so once I got going, it was a great process. I had some help from stitchers, and that helped a lot to manage the work load. I spent a LOT of time in fabric stores, especially Mood (but I never saw Tim Gunn once in all the hours I spent there!). I work well at night, and I logged some major late nights working on this book. But overall it was really amazing to see the pieces come together one by one, and it was pretty thrilling at the end when they were all done, and I actually felt like they had turned out well. I think the whole time I had a big question in my head as to whether the projects were really going to be successful, and it really wasn't till everything was done that I could look at them all and feel that I was happy with them. That was a pretty great moment.
Me: Did you learn anything new through creating the book?
Brett: SO MUCH! I probably shouldn't admit that I didn't know *everything* when I started, because I'm supposed to be an expert if I wrote a book, right? But I learned a ton along the way. I had never sewn with knits before, and so I learned how to do that in order to make the knit cardigan. And I had never sewn with vinyl either, and YOU gave me some great pointers that helped me get over the hump with that. I also learned that quilts with irregular angles are very, very hard to write patterns for! (I learned that the hard way – ouch.) And I definitely learned a lot about my own creative process, especially about how scary it can be to start a big project, but how once you face your fear you overcome it and things usually turn out better than you thought they would… and all that jazz.
And as if that wasn't enough! Check out this great video tutorial of a skirt you can make in just one hour!
Sewing in a Straight Line by Brett Bara – How to Sew a Skirt in One Hour from Rarebit Productions on Vimeo.