In Print
Forgive the timeliness of this page. I am in the slow process of uploading all the work I have completed in the past few years, including articles in many publications like STITCH, Threads, SewStylish, BUST, Adorn, Cutting Edge, and more. Here is a small collection of works by me, including books and articles, with much more to come. For more on each article featured below, click on its title.
For more on my three books, check out: Skirt-A-Day (Storey Publishing), Dorm Decor (Chronicle Books), and Fashion DIY (Sixth & Spring Books).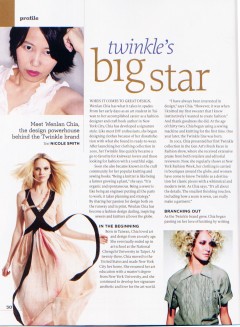 For the latest issue of STITCH, I had the great pleasure of interviewing the talented Wenlan Chia. Wenlan is the design powerhouse behind the Twinkle brand and author of Twinkle Sews, Twinkle's Big City Knits, Twinkle's Town and Country Knits, and Twinkle's Weekend Knits. I look forward to Wenlan's collections every season, so I was incredibly excited for the chance to chat with her about design, sewing, and more.